Laurie Scott
Musician | Author | Yoga Teacher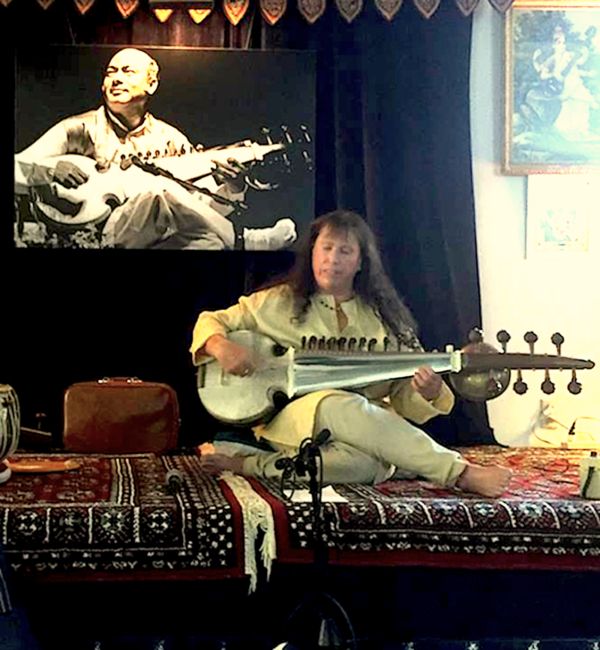 Laurie Scott is a musician, author, and yoga teacher who studied the classical music of North India with the great sarode player and musical genius from India, Ali Akbar Khan, for almost 25 years.
Laurie plays an instrument called the sarode and has composed and recorded several albums. Given the opportunity, she shares her music in institutions where people feel isolated, and brings peace and light to others through music. She also wrote a book entitled, "A Spiritual Journey to Now," that shares engaging and candid stories of her life and the valuable lessons she learned that can greatly enhance the quality of our lives.
Laurie also practices and teaches a spiritual form of yoga that is gentle, relaxing, and uplifting. She is a certified yoga teacher (RYT-500), meditation teacher, and yoga therapist (C-IAYT). She is a member of Yoga Alliance and IAYT (the International Association of Yoga Therapists), globally recognized organizations that maintain standards of education for credentialied yoga teachers and yoga therapists requiring ongoing continuing education.
For more information on Laurie and her music, please read below.
Indian classical music is an ancient and spiritual form of music that purifies and uplifts both the musician and listener, and helps bring people closer to God.
Indian classical music has two major traditions: North Indian (Hindustani) and South Indian (Carnatic) classical music.
Laurie studied North Indian (Hindustani) classical music with the great North Indian classical musician, Ali Akbar Khan, for almost 25 years.
Laurie Scott's Music Teacher
Ali Akbar Khan is considered one of the greatest Indian classical musicians of our age and received many honors and recognitions during his lifetime. He established the Ali Akbar College of Music in 1967.
Laurie studied with Ali Akbar Khan between 1984 and 2009.
Ali Akbar Khan left his earthly form in 2009 and his music continues to flourish. His very accomplished sons (Aashish, Alam, and Manik) continue to teach his beautiful music in both America and India, and his school, the Ali Akbar College of Music, remains strong. Students also come from far and wide to study with its extraordinary teacher of percussion (tabla), Pandit Swapan Chaudhuri, who received one of India's very high honors, the Padma Shri, for his outstanding contribution to music.
The musical lineage of Ali Akbar Khan extends from Mian Tansen, a musician of the 16th century, who is considered the father of North Indian classical music.
Tansen was a treasured musician in the court of the great North Indian ruler, King Akbar, who named Tansen as one of the nine jewels of his court. Stories exist of miracles that occurred through his music, and he was considered a musician saint.
He was born a Hindu and had a Hindu Guru, and his life was also touched by a Sufi mystic and the Muslim court of King Akbar, where he was a court musician. His music was loved by people of different religious backgrounds and transcended all differences.
Laurie plays the gorgeous instrument, sarode (or sarod), which she learned from her teacher, Ali Akbar Khan. Its Sanskrit name is "Sarode-Dhayak-Veena."
The sarode is a fretless instrument that takes many years to master. It has 25 strings (4 of which are the main playing strings), that must be tuned perfectly to give it its richest sound. It is made out of teak and usually played with a pick made out of coconut shell.
Laurie was born into an open-minded and musical family. As a young teenager, she was a spiritual seeker and practiced yoga. At the age of 19 she joined a traditional ashram (a Hindu monastery) where she lived for seven years, four of which were spent living in India. Afterwards, she studied Indian classical music with the great Indian classical musician, Ali Akbar Khan, for almost 25 years.
Laurie shares her music in institutions where people are suffering and lonely. She is also a certified yoga teacher, meditation teacher, and a certified yoga therapist, who teaches a gentle and spiritual form of yoga that helps people feel peaceful and relaxed.
Laurie serves others by sharing her music, teaching yoga and meditation, and through her writing.
Albums & Book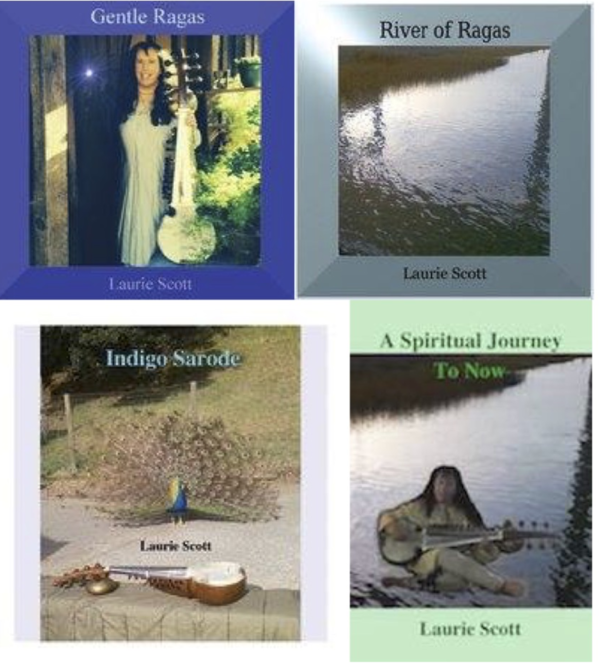 Albums
These compositions are on Laurie's first trial album, Sarode Spirit, which she regards as a "trial" album due to her being new to the recording experience and it having some raw character and flaws. (It was released in June of 2014 and features the ragas Patdeep, Loom, and Sindhi Bhairavi.)
Laurie composes all of her own music and has recorded three additional albums:
-- "River of Ragas" (ragas Kafi, Shankara, and Mian Ki Malhar)
-- "Gentle Ragas" (ragas Bageshree, Durga, and Jog)
-- "Indigo Sarode" (ragas Dhani, Jhinjhoti, and Chandramukhi).
To hear more of her music, please click on the "Music Recordings" button, or on the YouTube icon at the end of this website, where one can listen to her music for free. Her music can also be heard on Spotify.
Her book, "A Spiritual Journey to Now," is also available through the "Book" button on this website and is on Amazon. A portion of each book sold is contributed to charity.